Today's the day! The sun is shining (the tank is clean!)! It's Honey Roast time! Last week I was thinking about how hard we are on ourselves (at least I know I am) all the time. It can be exhausting. How nice would it be if we could just have a day to consciously make the decision to be as nice to ourselves as we are to our friends, or even strangers. And the Honey Roast was born! A special thanks to my awesome co-hosts Becky from Made in the Shade Blog, Juliette from The Other Juliette, and Kay from The Best of Intentions. This wouldn't have been a link up without Kay's encouragement.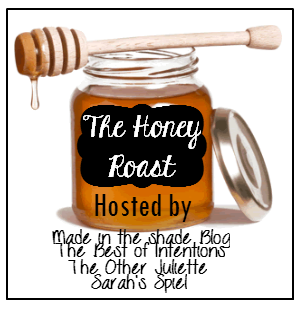 Sarah, girl you are too hard on yourself, it's time to Honey Roast.
+You can rock Nike shorts all day everyday like nobodies business.
+You've been hitting the gym with surprising consistency, those results will start rolling in!
+You've done a good job staying on top of those dishes that never seem to end.
+You're only 23, you have plenty of time to decide what you want to do with the rest of your life.
+Your closet looks great after that spring cleaning surge you got this weekend. Don't let those dirty clothes tell you who is boss!
+When you cook, it's the bomb. Those made from scratch chocolate chip cookies, mmmmm.
+This wedding planning is stressful, but you're on top of most of it. All the major needs are booked, go get a pedicure.
+You sure do love those babehs (Toby and Voldemort). They know how lucky they are to have a good home.
Honey roast yourself, give yourself a little pat on the back, and link up below!
Have a fabulous May 1st!