Oh it's Thursday, and in light of yesterday and the day before yesterday's post (night and morning), today we're doing a LUNCH ROUTINE. Just kidding, I wouldn't do that to you. Even though lunch is my second favorite part of the day. (That and dinner... ok maybe its bed time... don't make me choose.)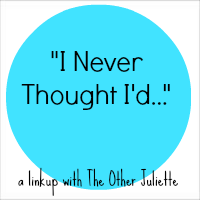 I read Juliette's list of things she didn't think she'd ever do, and I'm so glad she made it into a link up.
Here are my things I never thought I'd do.
--Wear leggings as pants. What are those p-a-n-t-s? Are they 90% cotton and 85% heaven? No? No thanks.
--Drive a mom car. When I wrecked my Toyota Camry a couple years ago I didn't think I'd be back in a four door car anytime soon. But I said bye to the mustang and hello to leg room, purse room, room for all 80 of my cups...
--Own a cat. I've never been a cat person, but Toby needed a friend and we knew we couldn't handle another dog in our apartment just yet. Puppy training with two sets of stairs? No thank you. So here I am, with a kitten, named Voldemort (we couldn't think of a name for him, so I told Roland we should just name him Voldemort aka "He who shall not be named" and it stuck)
--Pay for Hulu again. We had Hulu before we had cable. Now we have cable and I still watch Hulu most of the time. It's easier for me to be the calm & cool fiance and let Roland watch basketball when I know I can watch Scandal tomorrow during lunch.
--Write a blog. Sure I think I'm funny and have interesting things to say.. but will anyone else. That's when you realize you're probably not the only un-recognized hilarious person in the world. If you build it, they will come.
What are some things you never thought you'd do?