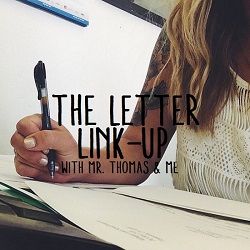 Amber's marriage letters have always been a source of inspiration to me, as a newly wed trying to navigate our new lives together. Other than our parents, Roland and I don't have any close married friends. And as parents they can sometimes be a bit bias when giving their opinion as what's better for me rather than "us." I mean they're parents and that's what they've been doing for 24+ years, so no one can blame them.
This year there are going to be a lot of changes in our household, a lot of questioning "can we do it" before the fact and the ever frustrating "why did we do it" among the crazy days. There's nothing I'd love more than to be able to look back on our time as newly weds with the world at our fingertips and smile. Reading how we grew together, better, stronger. The letters probably won't always be to my husband, but that's where we're starting today.
Roland,
This past weekend we broke from our normal routine. Instead of making dinner and playing an hour of rock-paper-scissors to see who gets to pick the movie, we celebrated a Thunder win live and in person, we beat my parents at cards, we went jogging (that's right, I jogged). It was fun, it was new, it was refreshing. To do something outside the normal day-to-day routine is a big deal for creatures of habit like ourselves, and this weekend we stepped outside those lines in a big way. It became one of those weekends we'll look back on and think of all the memories we made together (and with Bennie).
After thinking of how fun stepping outside our routine was, it made me realize how much I craved our everyday schedules. The time in the morning when we talk about our busy day ahead of us, our lunch date through out the week when we gorge ourselves on delicious salsa and plan for the evening or make jokes about the salsa almost being TOO good. And our evenings together are my favorite. Standing in the kitchen, talking about our days or our newest adult problem (this week it's the internet) while you sneak too hot food off the stove will always be my favorite time with you.
As refreshing as new experiences are, sometimes coming back to the "same-old-same-old" is equally as refreshing. That's what keeps me calm about the unknown of the future. Knowing that no matter where we are, together is all that matters.