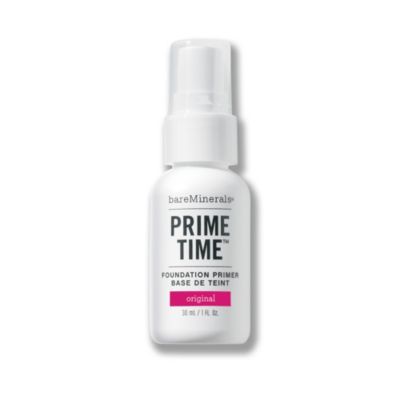 Generally I wear a liquid foundation. I wore a cream to powder when I was younger and didn't need as much coverage. But since my face started blemishing up I switched to liquid. Until I went to a bareMinerals store and someone did my make up. It. looked. awesome. I never thought the foundation could give that much coverage since it was just a powder! And it was mineral which was good for your skin! So Mr. Spiel told me to go ahead and get it. So I used it from February of this year to about a month and a half ago. My face was acting up like it never had before. I was completely fed up with it, the mineral foundation wasn't giving me the coverage it used to, so I switched back to a liquid. Wow, I just realized how off topic I was.
Anyways,
when I bought the starter kit it came with their
Prime Time Foundation Primer.
This one had the same consistency as the Mary Kay Primer. It's a silky smooth texture. I got the sample bottle so it only lasted me a couple months until I had to switch back to Mary Kay, I honestly didn't see much of a difference.. It didn't make it any worse, but again, didn't really change my life. So ladies, I'm still on the hunt! Next on the list to try is Clinique's new primers! Keep checking back, or follow me on bloglovin' or by email!
Sarah 💋